Surviving and Thriving Through May
I'm well into my trip to the next Bassmaster Elite Series event on Lake Texoma.  It's been an extremely busy past month with tournaments and sponsor obligations.  I just wrapped up the Toyota Texas Bass Classic a couple weeks ago which is always a fun event.  They normally have it at Lake Fork, but this year we were on Lake Ray Roberts.  It was definitely a transition from Fork, but nonetheless a cool experience.  One of the coolest parts was getting to weigh in downtown Frisco at the new Toyota Texas Stadium. 
This past month I've had four events, but it really has felt like five.  Starting out the month with Norfork Lake/Bull Shoals with the format of fishing day one and four at Norfork and days two and three at Bull Shoals definitely felt like two separate tournaments.  I really love fishing Bull Shoals and just being in that area.  Winning my first Elite event there I think it'll always be pretty special.  I had never been to Norfork before and being so close together you would think it fished pretty similar.  Although the two lakes do share a few similarities, for the most part they were in completely different stages.
Going into Norfork, my mind was on survival.  I ended up coming out of day one sitting in the thirties which kept me very much still in it.  Days two and three on Bull Shoals I was able to jump up in the standings at my beloved lake.  I was able to catch about thirty fish a day on Bull Shoals.  Everyone came by flipping new water.  I haven't got to really say that I was able to fish an event like that in a long time and it was definitely a fun way to fish.  I caught so many two and three quarter to three pound fish throughout the two days it was incredible.
I jumped from being in the thirties after day one to seventh place going into day four back at Norfork.  When I got back to Norfork, I went back to the areas that I had caught them only two days prior.  Unlike day one though, the bait was not there.  I ran around and struggled before finally making a run way down the lake.  I began throwing a swimbait and was able to put four fish in the boat and just ran out of time.  I dropped to eleventh, but got out with some valuable points en route to Wheeler.
At Wheeler, I again went into a bit of survival mode.  I spent most of my practice looking for them out deep and marking potential areas like brush piles where they would be coming to.  I don't think I ever really figured out what they were doing, but I managed to play some damage control.  I had one good shallow area where I flipped a 3/8 and ½ oz Terminator Jig in Green Pumpkin to whatever cover I could find.  I also caught my biggest fish of day one off of a brush pile on a Rapala DT-16.  I started barely inside the cut and decided to start in a different area day two.  It didn't produce any bites.  I went deeper and got my first bites at 10:30am.  I put a 2.5 and 5 pounder in the box with a football jig and the DT-16.  I thought I was onto something.  I began running more deep stuff and never got a bite so I decided to run shallow again and put together a limit before heading back out deep.  Once again I wasn't able to get a bite, but I made the cut for day three.  I rolled the dice a bit on day three and went to a new shallow area which didn't pan out.  I managed to limit the damage and get paid and get some decent points too.
Next up was Toledo Bend.  Toledo was a totally different animal than it had been in the past.  At this time of year it's generally all about the offshore bite, but with the high water it changed the dynamic a bit.  Obviously, Kevin won out deep doing what he does best, but a vast majority of the checks cashed in that one were shallow.  I spent a good deal of my practice out deep and wasn't able to find something I was real confident about.  I did find one shallow area day one of practice that I caught a 5.5 flipping and a 7 on a frog which ended up being pretty valuable.  I ran there day one and was able to flip them up pretty quick.  I made a few passes through and ended up losing a couple that definitely would've helped.  Day two I went back again and began catching a few and got up to about sixteen pounds after a couple passes.  After putting that together, I stopped a rock pile out in the middle near that shallow area and began wailing on them.  I caught twenty five in a row culling up some before heading back shallow.  With thirty minutes left I stopped and flipped a couple mats before heading in and put a 5 and 6.5 pounder in the box which took me to over 21lbs for the day.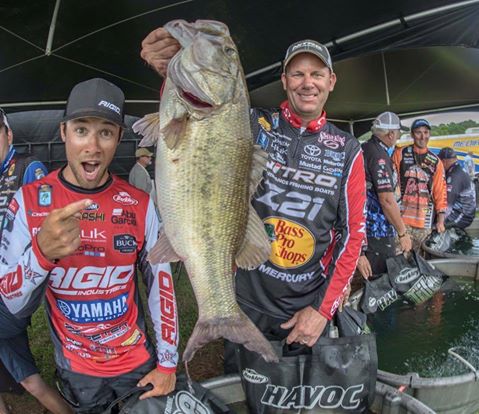 Day three was slower for catching bigger fish.  Starting at my primary shallow area I went back to catching them, but only put together about 14 pounds.  Bouncing between the rockpile and the shallow spot I was able to make some small culls.  I ended up losing a few fours and a six from my main stretch which definitely hurt.  I was using the same set up I had been and have no idea why it happened.  I ended up getting out of there with a twenty first place finish and some more valuable points now headed into Texoma.
Texoma should be a very interesting event.  With the record rain they've had in Texas the water continues to be well above full pool.  In practice that was the case and I didn't fish much because I figured it would stabilize once we got back.  I wish I did a little more fishing now.  The lake has a healthy smallmouth population and I figured the water would stabilize and clear up more, but they probably won't be as much of a factor in this one.  As a smallmouth guy I know they don't like high muddy water.  I'm going in with a fresh mind and will have to fish the conditions.  It's going to change every day and the guy who figures out how to adapt will win. -BP