Soaking In the AOY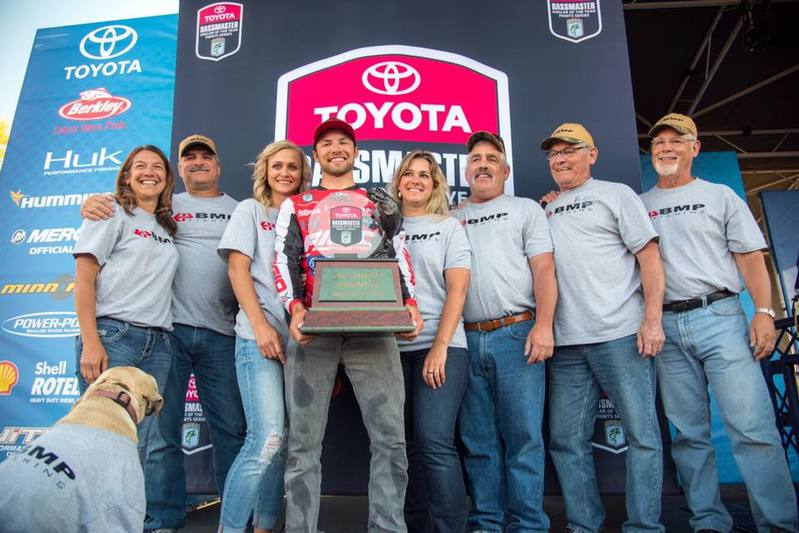 It's been a whirlwind since finishing up the year at Mille Lacs and taking home the Angler of the Year trophy.  I've been on the phone and traveling nonstop until this past week.  It's still a pretty surreal experience.  We had a big party over the weekend over at a buddy's parent's place.  They turned a big shop into a bar with flat screen and the works.  It's a pretty cool place and it was a great time getting to share the experience and my gratitude with all of my family and friends; especially ones that I hadn't seen since the Mille Lacs event.
After getting the job done at the Angler of the Year championship, I felt a huge relief.  Going into the event as the hunted and being able to get the job done was a great feeling. 
The first day of the event I knew I did enough to at least not shoot myself in the foot.  I wasn't very happy going into weigh in, but afterwards, seeing that I was still ahead of Jason helped.  Day two started off a bit slow.  I was covering water because I didn't feel like they were really stacked up anywhere very well.  After making some adjustments, I knew it would just be a matter of time before I ran into enough of them.
Once we got to the midway point on day two, I started catching them.  With about six minutes left I got the bite that I needed.  The six pounder not only culled me up about three more pounds, but more importantly brought a sense of calm.
Saturday was a day off the water with the expo.  It was a fun and I got to talk to a lot of folks.  It was kind of a recharge day and it was just what I needed going into Sunday.  On Sunday, I woke up with this feeling like I was going to win.  It was a sense of calm and confidence that took until then to feel.  However, my day on the water did not start out in winning fashion.  At 10:30am I only had one fish.  I decided to make a move to an area that I had hit multiple times throughout the event, but had yet to get a bite out of.
I pulled up to the isolated rock and with my 360 imaging, pitched right to it and caught one immediately.  I quickly hit my spot lock and proceeded to catch almost all of my weight from that individual spot.  I made some more stops afterward but had nothing more to show.  I had one more area I had high hopes for.  The first couple days it didn't produce for me, but this time it was a game changer.  I finished up by catching back to back four pounders.
When I got back to weigh in, I didn't have any idea of the points or how Jason had done.  Not until I heard Mercer say that I only needed nine pounds did it sink in.  A lot of emotions hit me at that point.  The past twenty ones years, since I was eight years old, I've been thinking about it and working for that moment.  It was pretty special to be able to share the experience with Tiffany and all of my family and friends that were able to make it out.
Since that event, I think I've been out fishing maybe four hours total.  I've been traveling a lot and doing a lot of interviews, trying to make the most of it all.  I got to go down to South Carolina to give a speech before the BASS Nation National Championship which was a great experience.  That's where it kind of all started for me and seeing all those guys, I knew a lot of what was going through their heads. 
One of the coolest things I think was getting to go on a hunt with Mark Geist and shoot my first antelope.  If any of you are familiar with the movie Thirteen Hours, you may know who he is.  The guy is a war hero, but extremely humble and down to earth.  But, I can tell you, he would be one of the last guys you would want to mess with.  That was all set up through Weatherby and Leupold Optics.  It was an important trip, because it was truly the first time I was able to reflect and kind of reset after being so laser focused all season.    
We just wrapped up a great shoot here at home with Huk Fishing.  It's always a pleasure working with those guys and the level of professionalism across the board is excellent.  We're just getting ready now to head out for the SEMA show in Vegas.  It's going to be a cool new experience this year as my truck will actually be on display inside of the Dick Cepek tires booth.  It's always a good time and I'm looking forward to catching up with everyone there.  SEMA is a massive show and really the place to be if you are a gear head.   In the meantime, we'll be trying to soak up and enjoy every moment of the post-Angler of the Year experience.