SEMA Time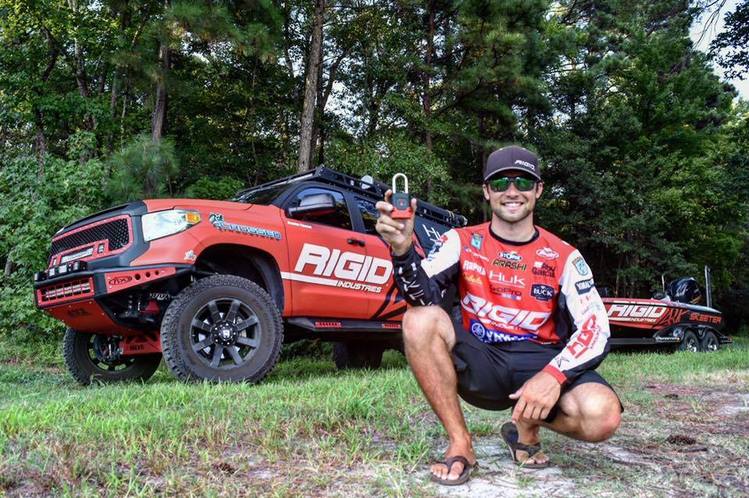 I made it to Las Vegas for another SEMA show today.  I'm particularly excited this year to be here because of all the great new aftermarket auto accessories coming out from BOLT, A.R.E., Rigid Industries, Dick Cepek and GoPro.  It'll also be time to work on more stuff with Crossed Industries.
The amount of anglers that are now at this show is staggering.  When I first started coming to SEMA I think the only booth that had any anglers was Toyota/Bonus Bucks.  Now, in only a couple of years, there are a lot of us.  There are plenty of tricked out fishing trucks and boats too.  It's really cool to see the crossover between the automotive and the fishing industry up close and personal.
Since wrapping up the season, I've already been planning and starting to prep for the next one.  2017 will bring a whole new dynamic with us starting the Elite Series season before the Classic.  To be honest, I liked being able to focus all my efforts on the Classic before the season started so this will definitely change some things for me.  I do like to fish a couple events before the Classic, like the Opens, but this will be much different.
The end to my 2016 went fairly well.  I didn't have a stellar event at LaCrosse; I was pretty happy to make the cut and get some good points after the way the event started.  I had found one area in Pool 8 and one in Pool 7.  I didn't feel too confident going into that first day which I was going to go to at blast off.  I ultimately decided to go to Pool 8 since I had caught some bigger ones.
The rain blew out many of the areas down there and mine was no different.  Jordan Lee and I both started there and ended up bailing after a short time.  I went to try and lock through by nine, but couldn't get through because a barge took priority.  The turning point for the whole tournament came when I did not panic and calmly went to fishing history.  By the time I made it back through at 12:30 I culled everything within two hours and ran back down.
Day two, I didn't bother going back to Pool 8 since I knew it was completely blown out, so I went straight to Pool 7.  I ended up putting over fourteen pounds in the livewell and barely snuck into the cut at 48th.  The third day I went back up and got out with some valuable AOY points before Mille Lacs.
I have to say after visiting Mille Lacs for the first time, that it is one impressive fishery to say the least.  I figured out pretty early on what I needed to do.  I could tell what the bigger fish were doing and what they were holding on.  I wasn't getting a lot of bites, but the quality was solid.  The first day I did not execute and ended up with a little less than twenty pounds.  At most places in the country, that's a very respectable bag, but at Mille Lacs you need a lot more.  Thankfully, over the next two days, I was able to put some bigger ones in the boat with 22-11 and 22-12 lbs respectively.  By those final two days it got a lot better for me as I culled through some twenty pound bags to get what I had.
Mille Lacs was also the first tournament I really got to utilize my Minn Kota Ultrex trolling motor and it didn't disappoint.  The spot lock was invaluable throughout the event.  If I had not had it, I would've wasted so much time trying to get back on my spots after fighting a fish.  My Humminbird 360 imaging also played a huge part; I was able to see and cast to specific rock veins.  Without those two components working together, I truly feel like I would have been at a disadvantage.  
On another note, I have managed to get out on the water back home.  I have been chasing an 8 lb smallmouth and keep getting closer and closer.  The big ones are eating and I took an local high school kid with me recently and he caught his personal best at over six pounds.   Needless to say, he was pretty excited and it was fun for me too.  Once I get back from SEMA I'm hoping to keep chasing after that 8 lb bronze and hopefully hit the woods and chase some elk as well.