Running into the Rez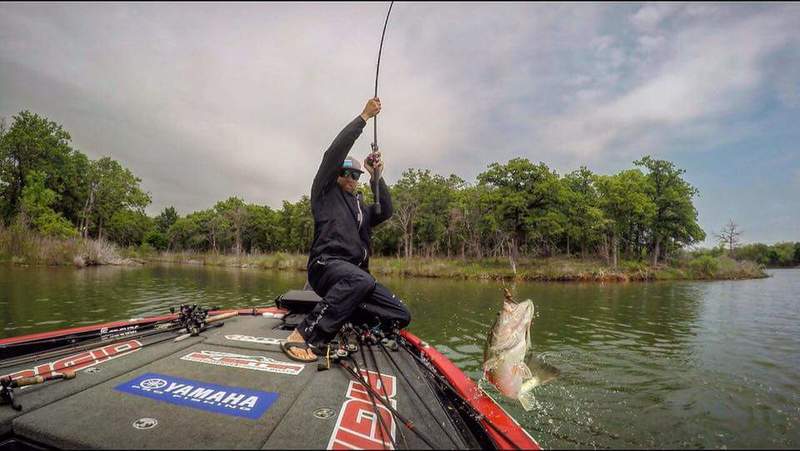 This is going to be a tricky one this week a Ross Barnett.  Coming in I really wanted to focus my practice on fishing shallow, but knew if I didn't feel like it was happening I'd have to get offshore some and  explore that mid-depth zone.  After practice, I'd say I'm feeling a bit confused as to which direction to go.  It's a transition time here and this event is setting up to be a real grind.  With most of the fish going into that postspawn phase, it seems we're in that familiar postspawn funk.  Although I anticipate a tough event there will definitely be good bags weighed in this week.  This one will be all about flying by the seat of your pants and fishing the moment.  We just finished up with Toledo Bend and after having to make a lot of decisions throughout the day, I think I'll at least be well prepared for that aspect of the event.
Toledo Bend is a place I've always enjoyed in the past.  It's a fun place to fish and it's one of those lakes that I've always just felt comfortable at.  After having poor events at the Okeechobee and the Classic, I was ready for some fun.
After getting on the water I quickly realized it was fishing tougher than it normally had.  I spent my first day solely fishing shallow and it was a grind.  I moved out a bit more onto some staging areas and starting putting something together.  I threw a chatterbait around in those areas and ended up catching a couple big postspawn fish.  The last day of practice I built on more of what I had figured out day two.  I went into an area that set up well and focused all of my time there.  Before long, I had caught about twenty pounds pretty quickly and started getting pretty excited to kick off the event.
Day one I hit the water fired up as ever.  I hit my first spot of the day and didn't manage a bite which got me a bit nervous.  Fortunately, our next stop yielded some more encouraging results.  Soon after arriving, I hooked up and lost one then put the first four pounder in the boat right afterwards.  That's when I started thinking this was really going to work.  I ended up putting a little over nineteen pounds in the boat and started off the event in a great position.
The second day was a bit more of a grind.  I hooked up and caught one over five pounds early, but never really caught much otherwise.  I had enough to stay in the mix and make the cut to fish on day three.
I hadn't been getting much of a morning bite on day one and day two, so day three I decided to make a move to try and maximize the early shad spawn.  Based on what I had seen, I figured I could catch about ten to twelve pounds fairly quickly, but didn't expect to catch much size.  As expected, we were able to put together a quick limit but, fortunately for me, the size was much better than expected.  I ended up catching a four and a half and six pounder from those shad spawn fish and started off my day great.  I did make one mistake in the heat of the moment while getting those fish fired up.  While catching those schoolers, I was so fired up that I made another cast after putting the last fish in the well.  Thankfully, it didn't end up costing me anything.
As it got later in the day I felt like I needed another big bite.  I had an area in my mind where I felt had a good potential to produce one, but was a long run down lake.  At 1:30pm I decided to make that run.  I arrived at the spot about 2pm and at 2:15pm I got that ever important bite.  I kept putting that chatterbait to work and hooked up and landed a key five pounder which helped get us to day four.
I started off my day again chasing the shad spawn.  Something definitely changed as it was amped up like crazy.  In my first six casts I caught a limit and just continued smashing them.  It was such a fun way to catch them all week.  It was all about decisions as things were changing by the day.  Thankfully, things worked out very well for me and we were able to get that momentum back in the other direction.  With a pattern emerging, my Lakemaster mapping really helped me save time running around and be able to find similar areas just by looking at the maps.
I stuck around at Toledo Bend afterwards to just have some fun.  It's really important to make time to fun fish and just go out without that feeling of having to find a better spot or catching a bigger fish like in the tournament setting.  It really helps you relax, recharge, and get back to the essence of the sport. 
After leaving the Bend, we hit the road and spent a couple of days at Rayburn looking around getting ready for our next event there then stopped in Oklahoma and spent some time with our friends Kevin LeDoux and his wife. 
Now, I'm at Ross Barnett getting ready to grind out some fickle postspawn largemouth bass.  With a good event at Toledo Bend, I'm hoping that momentum continues in the forward direction here and throughout the next half at the season.  I'm recharged and ready for whatever "the Rez" has in store for us this week.