Reeling in a Win on Rayburn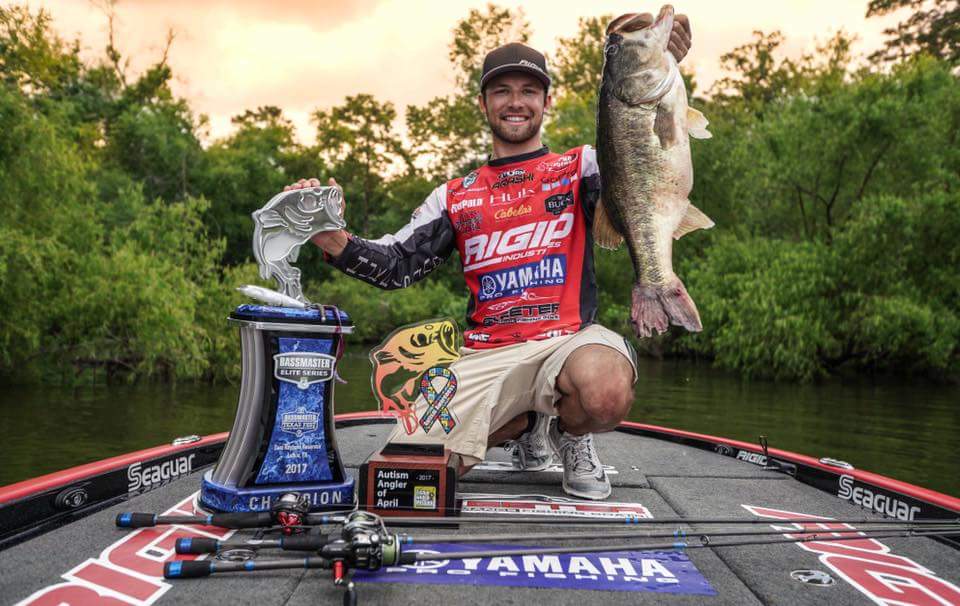 Coming into the season, the event on Sam Rayburn was one I was looking forward to.  There are always places on the schedule that you enjoy fishing and Rayburn is definitely one of them.  As far as looking into the future and anticipating how this one would set up for me, I wouldn't have picked it as one I would have the best chance to win.  Fortunately for me, fate had some different plans.
Going into the event I had mixed feelings about whether to fish shallow or deep.  Right after Toledo Bend, me, Tiffany, and the dog went to look around.  At that time, there were a lot of fish shallow around the grass, but I knew things would change a lot by the time the event came around.  Being that the event was in May, there would definitely still be some quality bass to be caught shallow because of the bluegill.  Some fish are residents and never really leave so grass can always be a factor.
When official practice came around, I was sort of torn on what to do.  I started out deep looking for the normal offshore stuff, like humps and around submerged points.  I found some big schools of fish, but almost everything I ran into were small (between 1 ½ and 2 ½ pounds).  I just couldn't get any of the big ones.
After realizing that wasn't working, I decided to start looking for some off the beaten path structure that might hold some bigger fish.  I started scanning some brush piles that were planted for crappie and started to see some bigger dots hanging around them as well.  I would mark one or two larger fish which I presumed were bass.  I just couldn't get them to eat.  That was until I tied up a neko rig with a Zoom Magnum Trick Worm.  Soon thereafter, I was able to confirm they were bass – I caught them with this set up, up to nine pounds.
After figuring out the neko rig deal, I was gaining confidence in it.  The only problem was, I wasn't sure how many I could actually catch doing it.  I didn't really feel like I had a shot to win yet as I didn't think I could get enough bites.  I was kind of hoping I could scratch together sixteen to eighteen pounds with what shallow stuff I also had.
I drew boat 106 day one and thought there would be no way I could get on my deep brush pile.  It's not super obvious, as it was pretty isolated, but much to my surprise, there was not a boat in sight.  First hook up on the neko rig was over eight pounds.  That fish was the defining one of the event for me.  It gave me a ton of confidence and if that had not happened like it did, I'm not really sure how the week would have went.  I felt relaxed and just went fishing.
I rolled up to fish a bank I had found some on and quickly had a two and a half pounder chase my swimbait.  I thought maybe they wanted topwater and tossed that Storm Arashi Top Walker out and connected with a four pounder soon afterwards.  Only a few casts after that and another quality fish ate it.  Then had one more have a go on top and ended up losing a really big one there before it shut off. 
After that shut down, I decided to hit another offshore brush pile that had been decent in practice.  I pulled out a Zoom Ol' Monster and plucked a five pounder off that pile.  After that, I did some more hoping around and caught a four pounder off a shallow place and starting expanding on more areas.  Day one I put together over twenty four pounds which had me sitting in second!  That's when I truly realized I had a shot at it.  There were a few guys also fishing deep, but any of the stuff I wanted to fish never had any boats near it.
We rolled out day two with the same gameplan and starting spot.  There were a couple small ones to be had on that brush pile, but nothing spectacular.  Soon after, I began idling over a brush pile I never saw them at in practice, my graph lit up with a school of bass and I thought I would absolutely smash them.  I didn't stop there immediately, but went up shallow and caught a limit first and had a five pounder miss my topwater. 
Shortly after filling my limit, I went back and lined up on that same brush pile.  On my first cast one swam away with the neko rig and ended up being nearly six pounds.  Then I proceeded to catch a couple more in the three to four pound class.  After milking that brush pile, I went back to my starting spot and culled with a few more quality fish and ended the day with just over twenty three pounds.
Going into day three I had closed the gap on Ehrler and knew that I had a great chance to win.  I did the same thing on day three except did not catch anything off my starting brush pile.  I soon went to my next brush pile where I did most of the damage on day two and it was plain awesome.  Before it even hit the bottom one, over five ate it.  I caught multiple fish from two to five pounds afterwards off the same spot and lost another five pounder after it came up to the surface to jump.  I proceeded to lose a giant that I would estimate to be nine pounds.  It had me shaken up a bit so I decided to reel it back in and went shallow to get back in rhythm.
I fished down that same stretch that had been so good to me, but with a jerkbait picked off a three and a half to get things started again.  Afterwards, I picked up a topwater and had a five to six pounder trail it the whole way to the boat.  I left and went back to my starting brush pile and caught a five and lost a five pounder.  I headed to the other brush pile I had caught them from and caught another five and also a six along with a couple smaller ones.  I decided to save it after that and weighed in another twenty four plus pound bag.
I had volunteered to help out with the High School All American on our off day between day three and four not knowing I'd be leading the event going into it.  They kind of expected me to back out, but I decided not to.  I took out a high school angler, Connor from South Carolina, and our task for the day was to put together the biggest two fish limit between the two of us with each of us weighing one.  I decided to start with the Storm Arashi I had already been throwing at Rayburn and started the day with one pushing six pounds.  It was a good start, but I figured it was going to take more weight.  I had him flipping and throwing topwater too as I thought that'd be the best way for him to catch one over five which is what I figured he would have to do.
I went to flipping a jig and caught a four and a half and a five flipping horizontal trees in sixteen feet of water.  Soon after, Connor began catching them and put a five and six plus pounder in the boat.  We ended up with a total of 12-3 and Connor won the High School All American.  It was really cool because not only did we win that event, but I was also presented with the Autism Angler of April Award for the month of April for helping raise money for Austism awareness.  Those were the two wins thus far, but we still had one more day at Rayburn.
Day four, the wind was projected to be light and variable.  I had an area where I caught a lot of big fish in practice, but hadn't touched yet in the event because the wind had been so bad.  We kicked off the day and the wind was ripping out of the north (had been the south) which made a lot of my main stuff extremely rough.  I started on the same brush piles however and proceeded to catch a couple in the four pound range and one about three before losing another and then having the bite shut off completely.
I went shallow to fill out a limit, but could not get a bite.  The wind was crashing into the bank and I thought it should have actually been better like that.  I decided to run to another brush pile and caught a two and a half pounder.  I thought things may be fizzling out for a bit.  I went to some shallow grass and was able to muster a couple two and a half to three pounders and figured I had about fifteen pounds. 
I went to fish out of the wind hoping they would bite better and rolled up on my first brush pile.  I picked one off almost four pounds, then one over three and started gaining ground.  I left and went to another brush pile where I caught a three and a half, but knew I needed a really big bite to seal the deal.  I went back to some of the same brush and caught a four and a half around 1:30pm.  I figured I had between nineteen and twenty at this pound, but still did not have enough.
After idling around some stuff I had marked in practice and not seeing anything, I saw some brush way off to the side.  It was random and sitting in the middle of some standing timber.  As I looked closer I saw a bunch of bass around it facing the brush.  At 2:15pm I threw out and hopped my bait through the brush pile before I connected with one almost six pounds.  On BassTrakk I had been leading all day, but saw Ehrler had also caught a big one around the same time and supposedly taken the lead back.  I made a couple more casts, but wasn't able to cull.
I was a nervous wreck heading in to weigh in, but knew that last fish would give me a chance.  They made me sit in the trailer and not talk to anyone to build the suspense.  All weights were official by that point and Brent weighed before me.  It was over and we gained a Classic berth, $100,000, and had an absolute blast smashing them on Rayburn for four days.  We even added another day to do a virtual reality video for Cabelas and smashed over thirty pounds including a ten pounder which was the icing on the cake!
That momentum carried over into Dardanelle with another top twelve.  It was a whole different world there: muddy, high water.  It was definitely a grind; I had a terrible practice overall.  From my experience there in 2014, I had too many preconceived notions.  I expected it to be a swim jig and flipping deal, but it really wasn't. 
I spent time on different sections of the lake and expected them to be shallow.  My buddy, Chad Pipkens, was catching them off the bank the final day of practice so that helped clue me in on that.  I started day one shallow and managed three keepers before heading deep and getting some better quality to give myself thirteen pounds.  Everyone smashed them which wasn't surprising, but I was still very much alive.
Day two, I found a couple new things offshore and was gaining more confidence in it.  One area of the lake had cleaner water and I focused on that section.  I found isolated objects in the four to eight foot range with my 360 imaging and moved up into twelfth place by adding fifteen pounds.  After practice I wasn't even sure if I could cash, but was feeling very confident after what I figured out day two that I would have a chance to do more.
Day three, I made the same milk run and put together a little over fourteen pounds to get in my fourth top twelve of the season.  I knew that final day would be tough with the rising water and it would probably kill my deep stuff.  I never caught them shallow and my deep fish seemed to suspend and get inactive.  It didn't go how I would have hoped, but overall I'm happy with the good points heading into the northern swing.
The best part about the rest of the season is now I can get rid of about half the tackle and rods in my boat and just go fishing.  This next part of the season there are some events I feel confident that I'll have a chance to do very well.  It's all about finding the right ones as almost everyone will catch them in these next few.  We'll also break it up some by fishing a little MLF and the first couple Northern Opens.  Oneida is fun and can be challenging while the James is a place I've made the top ten in each time and really want to win.  Out of all the remaining events I think it's the one I want to win the most.  For now, we'll enjoy some down time and get ready to take on the final part of the Elite Series season.