New Additions for 2017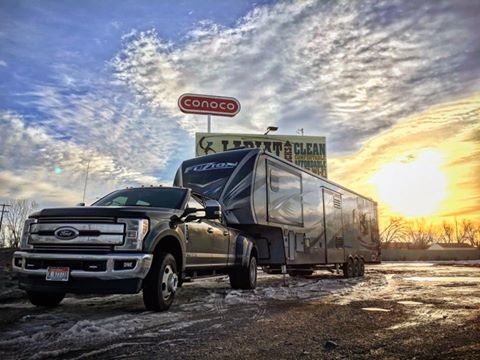 We're kicking off a new season with a couple new additions and partnerships for 2017.  We just made it down to Tennessee and will begin practice for the first Elite Series event on Cherokee Lake tomorrow.  Tiffany and I left Idaho with a new truck and fifth wheel trailer that we will be living in for the upcoming season.  I've never even owned a camper before so it'll be a fun new adventure for both of us.  We had talked about it for a long time and finally both got tired of packing and unpacking our things all of the time.  I must say that so far, this is a great way to travel.  It's pretty cool to just pull into a truck stop on the road, run the propane heater and climb into a king sized bed at the end of day.
After leaving Idaho, our first stop was in Texas to pick up the newly wrapped Tundra and Skeeter.  I'm very pleased with how it turned out this year and look forward to putting some miles on both this season.  Once we arrived, the fun of packing both the truck and the boat began.  Being efficient on and off the water is extremely important in this sport so I really focus on organizing both accordingly.
Some other new things I'm excited about for 2017 are a couple of new partnerships with Alpha Angler Rods, Seaguar Line, and Zoom Bait Company.  I made the switch to Alpha Angler based on their unique approach to the rod market.  It's truly different than anything I've seen.  Their main focus is on the quality and performance of the product.  They are also dedicated to providing great customer service.  It's totally an e-commerce business that is direct to consumer with no middle man.  What this does is allow us to sell the product for less and give the savings back to the angler.  The other really cool thing about what we are doing is that we can constantly work to put new models into the market as well as improve existing ones.  We don't have to wait to release them.
I'm also very excited to be working with companies like Seaguar and Zoom.  The quality of the products is exceptional and I always want to align myself with innovative companies.  Like most of the fishing world, I've been using Zoom softbaits for much of my lifetime.  I have a ton of confidence in their products and you truly can't put a price on that.
Everything is ready to go and I'm ready to kick things off this week at Cherokee Lake.  We've been talking about the upcoming season for so long now that I can't wait to actually get on the water.  We could have some cold weather this week and I'm truly hoping for it.  I'm so used to the snow and cold that I feel like it's an advantage whenever we have to fish in it. 
After Cherokee we'll be heading to Okeechobee which should crank out some big weights.  It's usually our highest winning weight of the season when we go down there, but also the lowest to make a check.  Florida fishing is usually a great example of the "haves" and the "have nots".  It's all about getting one or two big bites a day to jump yourself up that leaderboard.  Of all the Florida fisheries we go it's definitely my favorite.  Then it's time for the big show, the Bassmaster Classic, at Lake Conroe.  I managed to spend two days down there before cut off.  About three quarters of my time was spent riding around and the other quarter was actually fishing.  I like how that one is going to set up too and can't wait for the Classic.