Lessons Learned at Winyah Bay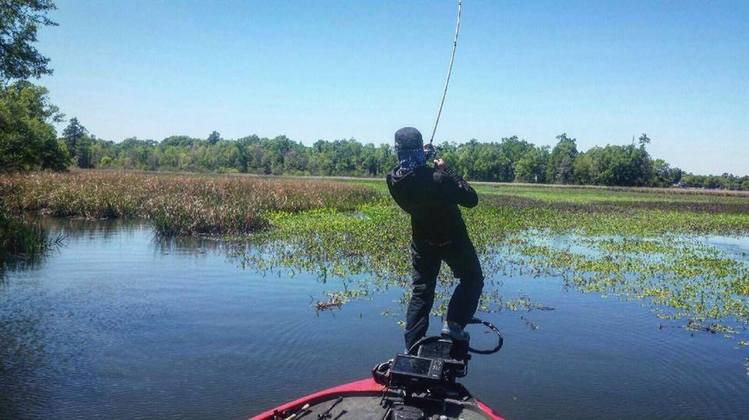 I'm on my way to the next stop of the 2016 Elite Series season at Bull Shoals/Norfork Lake.  I hung around to get a couple more things done to the Tundra at Britt Myers' shop.  They did a great job and now we've got the Tundra Suites completely ready to take on the rest of the season.  Huge congrats to Britt on the win at Winyah Bay!
Winyah Bay was a frustrating event for me.  Going into the event I knew the areas where I should be to do well and fished in some of them during practice where a lot of the top five guys ended up doing most of their damage.  I don't know if I was just caught up in what I wanted to do and was too hard headed, but I did not end up fishing there.  I did however feel like I had found the right fish to have a very good event.  Execution seemed to be the difference for me.
The first day I went to punching mats and ended up losing a few fish that definitely ended up hurting me.  I brought in three that went for five pounds five ounces and was behind the eight ball some going in day two.  With it being a tough fishery, the good thing is that I knew having a big day on day two could put me right back into the top fifty one cut.
I ended up putting together a slightly better bag, almost doubling my day one weight, but once again could only put three in the livewell.  I caught them fairly early on punching with what has become my go to set up in tough situations.  I flipped an ounce and a half Eco Pro Tungsten weight with a punch skirt and a Green Pumpkin Purple Berkley Fight'n Bug on a 4/0 VMC Heavy Duty Flipping Hook.  That set up has really gotten me out of some jams in the past on fisheries where grass is present.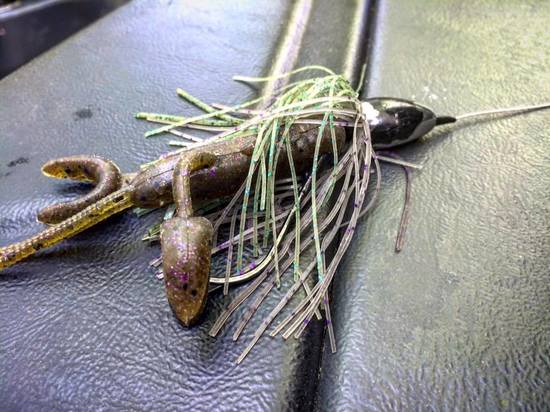 Even after doubling my weight from day one I only managed to move up about ten spots and was just out of the cut.  The guys seemed to really catch them on day two with more time to fish and there were a lot of flip flops going on in the standings where a guy had a couple fish day one and came in with a quality bag on day two.  After getting those three quick bites day two I went running around to places where I felt I could get a bite fairly easily when I should have stayed in that area and grinded it out.
Before Winyah, I fished the second Southern Open at Smith Lake in Alabama too.  It was my first time being there and I was excited because I felt like it sets up very well for the ways I like to fish.  It's a deep clear lake with plenty of rock and while I don't have a ton of experience chasing spotted bass, it also has a very healthy largemouth population.
After practice I had located some big schools of spots and with there being so many in that three to five pound range, I decided to target them.  I had trouble getting them to bite, but every once in awhile I could provoke one.  The problem was, they were here one day and gone the next.  I ended up having to take a shakyhead and fish the flatter points that extended out into the lake.  For me it didn't really matter where and I ran new water every day.  The difficult part for me was catching any more than twelve or thirteen pounds.  I started off just outside check range on day one, but made a little charge and ended up cashing on day two.
It's always good to cash in an Open, but the reason I fish them is to win and make the Classic.  I'm having to opt out of the final Southern at Douglas Lake, but will be back at it for the Northerns again in June.  There was a conflict with Douglas and the Toyota Texas Bass Classic and with no entry fee and two hundred thousand on the line I decided to fish it instead.
As for Bull Shoals and Norfork Lake, I'm really started to get pumped for the event.  It's one of the only lakes on the schedule aside from the Smith Lake Open that has rock contours and allows me to fish the way I like to fish, winding a crankbait around and having something to hit.  The first time we went there I was fortunate enough to win, so Bull Shoals definitely is a special place to me.  The next time, I felt like I had another chance to win after finding a lot of quality fish.  The weather changed up some and that fizzled on me somewhat and I ended up right outside the cut.  
This year they are throwing us a curveball with the format.  I've never been to Norfork before and definitely need to put some time in on it during practice.  In an perfect world I will fish Bull Shoals for one day and Norfork for the other three.  That's my plan for now anyway.  I have an appearance coming up on Saturday at the Cabela's in Rogers, Arkansas which I'm looking forward to, then get practice going on Sunday.  I'm really looking forward to getting this one started. -BP