Focused on Fishing this Week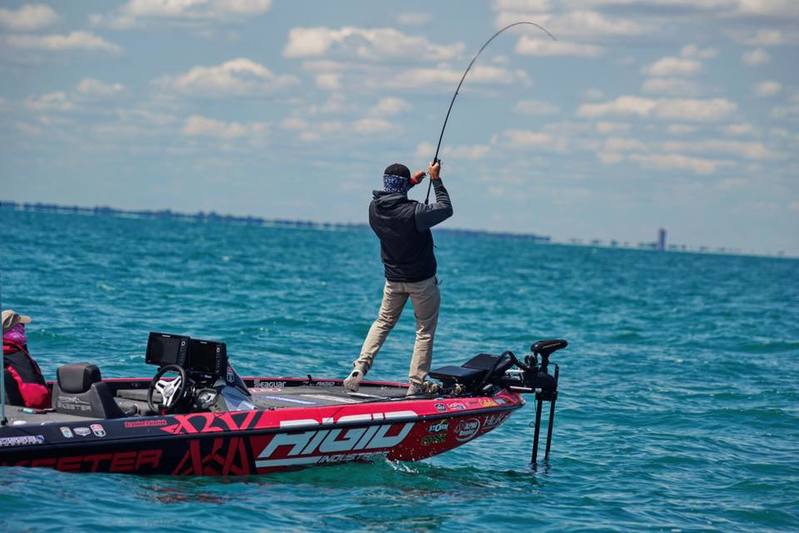 We couldn't ask for a better way to end the season than on one of the best smallmouth fisheries on the planet.  We're in the driver's seat in the Angler of the Year heading into Mille Lacs and this fishery definitely suits my strengths.  After practice, I can tell that it's fishing a bit tougher than it was last year.  Despite that, I wouldn't expect the weights to be far off from last year.  This place is full of giant smallmouth bass.
This one will be all about executing and making good decisions.  Twenty pounds here is not good enough.  In order to have a chance, you have to get up to that twenty pound plus range.  I'm kind of anxious to see what the weights are after day one.
St. Clair was a tricky one.  I was really close to screwing up the entire year there.  That first day, a lot of my big fish seemed to have disappeared on me and I scrambled to catch what I did.  On day two, I decided to go in a completely different direction.  I made the long run up to Huron and it ended up paying off.  I caught a five and four and a half pounder before running back down to St. Clair.
Once I returned to St. Clair, I put three more in the well in the four to four and a half pound range.  It was crazy because it was a spot I've had success in the past on, specifically in 2013, but had not gotten one bite off of in practice or the first day of the tournament.  Apparently, our timing was spot on.  My day two weight vaulted me back up where I needed to be heading into day three.
Day three brought more challenges.  I decided to run all the way back to Huron, but this time, it failed to produce anything.  At 11am, I didn't have anything in the livewell.  I ran back to St. Clair once again and caught a four pounder on fifth cast.  I started thinking maybe there was a school there.  I had ended the day before by catching back to back fish off of it.  However, that didn't end up being the case.
I left there after a bit and ran to the spot I had caught the few four pounders off of on day two.  Unfortunately for me, Ike was sitting on it so I kept running a few other places before I realized I had to settle in.  With one four pounder in the well at 1:30pm, I knew I couldn't just go flailing around in the grass.  I ran to an area that I knew had more rock in it so I could fish a little more precisely.  I hopped from rock pile to rock pile with a drop shot and scraped together a seventeen and a half pound bag to save my year.
All of that has kept me where I need to be.  I haven't looked at the points because my focus is to go out there and try and catch twenty two to twenty three pounds each day here at Mille Lacs.  The weather looks pretty good for us as that can always be a wild card.  I'm excited to kick off the last Elite Series event of the season.