Back to Work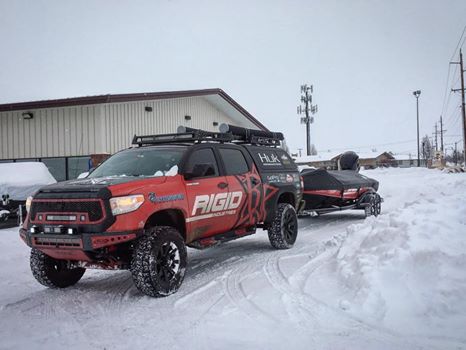 There's no question it's feeling like the holiday season here in Idaho.  We've got a good bit of snow and cold weather which has allowed me to spend a lot of time in my office working on the business side of things.  Going into the new season I've expected everything to go smoothly with my sponsor deals.  Overall, it's not been too stressful as many of my old deals are multi-year and aren't up for renewal.  I'm very fortunate to align with the companies I do; we all seem to share the same views on the fishing industry and work very well together.
We will be having a couple of changes in 2017 that I'm really excited for.  I'll be announcing a few new partnerships that I feel are great companies.  One is a start up that I truly think can change the game in the industry.
I've also been working on some personal projects and ideas that I think could start changing the industry.  I have spoken to some sponsors and other industry professionals and there has already been some interest expressed.  My grand idea would be very large scale, involving full time videographers and photographers following me around all season.  This would include not only the Elite Series, but also hunting trips and other adventures.  It's something I'm pretty excited about and I'm continuing to work on putting everything together.  I really think it will help shed more light on our sport and industry in a positive manner.
This past month I was at SEMA working with my sponsors in the automotive accessories side of things.  It was a great event.  It went very quickly with everything going on, but I did make some new contacts and secured some prior deals.  I also made sure to see all the cool new accessories on the market.  It is an amazing atmosphere.  Some of the Elite guys that were there hadn't been to it in the past and were blown away by how big the show actually is.
I made it out in the woods a little more chasing some elk and mule deer.  It was a bit frustrating as I didn't see one worth shooting this year.  The more I do it and the older I get though, I really just enjoying being out there in the woods.  It's really peaceful and the scenery is beautiful.  I want to do some more hunting next year.  I'd love to do some destination hunts.  There's so many cool places to see that I really look forward to.
This past week my wrap was finished up and I picked my boat up.  Everything looks good to go and with our season starting earlier than normal, I'll be heading out sooner rather than later.  But, for now, I'm looking forward to enjoying the holidays with my family and friends.  I want to wish everyone a happy holiday season and new year.